The
creeper 
eater head is one of Headdy's eighteen
Heads
in the game. It turns Headdy's head into a green,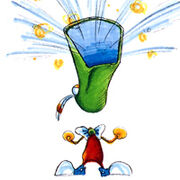 Creeper-looking one, leaving only his eyes and feather as a remainder of the previous head.
Attributes
Edit
When used, the Vacuum Head swallows up every on-screen foe, on top of every nearby item, with one swift suction. However, with this particular head, Headdy can't attack or grab onto things, making him unable to use Hangmans or Headcases.